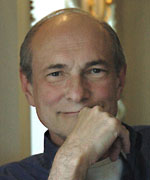 Patrick Dunavan launched his television career in 1962. Starting literally at the bottom, his first industry job was in the basement mailroom at CBS Television City in Los Angeles. Eventually he became a news and documentary film editor at KCBS Channel Two, where he finally was promoted to Producer and Director. In that role, he earned eight Emmy's and two Golden Mike awards for his public affairs series and documentaries; He also produced a number of children's programs such as the Emmy winning "Chris and the Magical Drip." and directed "Dusty's Treehouse," a KCBS children's series, which won both a Peabody and an Emmy Award.
In the years since, he has built a rewarding freelance career as a producer-director of documentaries, as well as educational and corporate films. He also squeezed in a gratifying seven-year stint as a part-time Senior lecturer at the University Of Southern California School Of Journalism.
He and his wife, Dr. Claire Panosian Dunavan, have formed a small production company called HealthQuest Media to educate medical professionals and consumers about health and medicine. One of their projects– "Hepatitis B: The Global Challenge," a 30-minute documentary–has reached over 400 million viewers worldwide.
Most recently, Dunavan produced, directed and shot 12 teacher profiles in association with the Pasadena Unified School District and the Rotary Club of Pasadena.