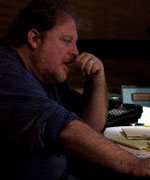 Eric Mofford is a producer and director that has been involved in over 50 film, television and on-line productions and numerous music videos. He has worked as an Assistant Director and Production Manager on another 30 feature films and television programs, including the Emmy award-winning "24," Clockwatchers, Kalifornia and Daughters Of The Dust. Previous producing credits include the Emmy-nominated, award-winning feature documentary Houston We Have A Problem; the live action portions for the EA video game, Need For Speed: Undercover, with Maggie Q; "Mandala," a five camera live concert performance by world musician, David Arkenstone (also Directed); and the television pilot, "Finding Hope," with Chris Mulkey, James Morrison and Molly Quinn.
Previous producing credits include "Black. White." for FX television, "Extreme Makeover: Home Edition" for ABC and the IFC critically acclaimed comedy series, "Minor Accomplishments Of Jackie Woodman." He served as the Supervising Producer on the film, We'll Always Have Dingle, shot in Kerry County, Ireland. His dramatic blues film, Travelin' Trains, aired nationally on A&E and won a dozen national and international film festival awards including the CINE Golden Eagle. In 2001, he co-produced the 13-part documentary series on high school students, "Senior Year" for PBS.
He has written and directed projects for Disney Interactive, Saban Entertainment, The Discovery Channel, Image America, Why Communications, United Way, Turner Broadcasting and the Atlanta Project. He is a member of the Directors Guild of America. In June, 2010 he received the Rawartists award. He has taught numerous media workshops and for the last 5 years, he has been mentoring filmmakers with an individualized,tutorial-based instruction program One on One Film Training. More information on Mofford's production company can be found at UnconventionalMedia.com.
A graduate of Emerson College with a BFA in film, Eric still considers his best and most challenging work to be raising his two daughters, both of whom went through the Pasadena Unified Public School system from Kindergarten to High School and are that much better from the experience.